About
Robert Flain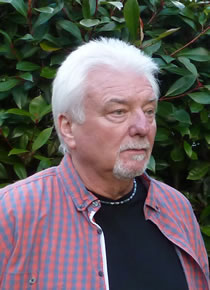 A classically trained graphic artist I began working in the Fleet Street area of London. Starting at the bottom as a 'gofer' in a small design studio and gradually progressing to the drawing board creating various layouts for different advertising media. I was born opposite the Houses of Parliament and grew up in a pub in the heart of London's Docklands surrounded by shipping and its related industries from all over the world. This is where my love of the sea and boats came from and appreciating different cultures.
I have had a variety of careers, but I have always returned to the world of advertising and publishing. I guess print is in my blood.
Cooking is a great passion along with learning new languages or at least enough to be polite.
I now divide my time between Yorkshire and Norfolk, where I have homes, but I hope to live permanently in Sheringham in the near future to be near the sea.
I have worked in oil, watercolour and most medias and I'm currently using my 'Graphic Style' to paint lighthouses from around the world, imitating the advertising posters of the 40s and 50s. Why lighthouses? Well I think they're fascinating constructions and each one has a story to tell about the men who built them. I'm trying to do as many as possible of the UK lighthouses with the occasional one from abroad when friends send me images from their travels.